UCSB Regents Scholarship awarded 1989 – 1991
UCSB Provost's Honors Council 1991 – 1993
UCSB Outstanding Senior Award 1993
National Science Foundation Graduate Fellowship 1996 – 1999
Stemple Prize in Physics, Caltech 2002:

Kip Thorne, one of my oral exam committee members, sends me a congratulatory email.
Information on Kip Thorne can be found here:  http://en.wikipedia.org/wiki/Kip_Thorne
Everhart Distinguished Graduate Student Lecture Award, Caltech 2004: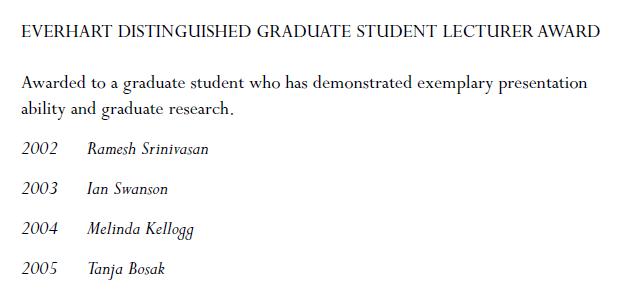 Everhart Selection Letter to Melinda Kellogg.
Department Chair sends  congratulatory email to entire Physics, Math and Astronomy faculty.
You can also see this confirmed online.
The two Caltech awards can be confirmed online in the 2005 Caltech Commencement booklet, on p. 41 and p. 46 of the brochure.
Copyrighted 2012 by Melinda Jane Kellogg;  All Rights Reserved