From 1981, which is when I graduated high school and moved to San Diego county with my best friend Cathy, until 1989 when I won a full merit-based scholarship to UCSB, I was very, very poor.   Often to the point of not having any food to eat.  I received NO financial support from my family, except when I talked my father into paying for my ballet lessons at Margarete Neumann's ballet studio, which he did for approximately 2 years.  The cost was $65/mo. for unlimited classes.
In 1981, the economy was very bad and there were no jobs.  There were not even jobs available at fast food places.  My friend Cathy and I quickly ran out of money for food.  Neither of us were the types to publicly beg for money, and we did not know of any places where free food was available.  We were very, very hungry.
We finally got a job with the help of some very kind neighbors in our apartment complex.  We worked the snack bar at a bowling alley called the "Vista Entertainment Center," here is one of my paystubs:
Vista Entertainment Center pay stub – 1981
Cathy didn't stay around very long, the poverty life was not for her!   She came from a middle class background and returned to her much better life as a student at the University of Colorado, Boulder.  I had no such option.  I scrounged myself a living best I could while dreaming big dreams of becoming a dancer.
I finally found my "in" into the economy, when I got into the pizza making business.  I would spend the next three years working in pizza parlors.  The first place to hire me was Godfather's Pizza, also in Vista:
Godfather's Pizza pay stub – 1982
Eventually I ended up working at Pizza Hut.  I made the move from working in the kitchen, to being a waitress – which meant tips!  The typical tip would range from $0.50 to $1.00, but I was at least finally earning more than minimum wage.  When I was 20 years old, I transferred from the Pizza Hut in Oceanside (in the North County of San Diego), to the Pizza hut in the city proper: San Diego.  I met a lot of good friends at the San Diego Pizza Hut, we stayed in touch for years.  Here is a pay stub from after my move to San Diego:
Before moving to San Diego, I briefly worked at two jobs simultaneously: Pizza Hut and a specialty apparel store, the Ballerina Boutique, also located in Oceanside:
Ballerina Boutique pay stub – 1984
Waitressing was clearly more lucrative than pizza making.  The economy was still quite bad, I applied for waitressing jobs at fancy restaurants, but there were always dozens and dozens of other applicants, most of whom already had higher class waitressing experience.  So, my next rung up on the economic ladder was to waitress at Bob's Big Boy.
My absolute favorite job during this 8 year period was the year I spent waitressing at "Drowsy Maggie's."  It was a folk-music restaurant and cafe.  We were one of the first places to have an espresso machine, and we served espresso as well as lattes and mochas.  We waitresses were allowed to wear our own clothing, rather than the hideous polyester uniforms required at Pizza Hut and Bob's Big Boy.  The menu was half vegetarian, and most the customers ordered from the vegetarian half of the menu.  I went vegetarian when I was nineteen (and still am a vegetarian 30 years later).  But, of course, the best part was the nightly folk music!  We had the most interesting customers.  This is another job in which I made many friends, including my first boyfriend.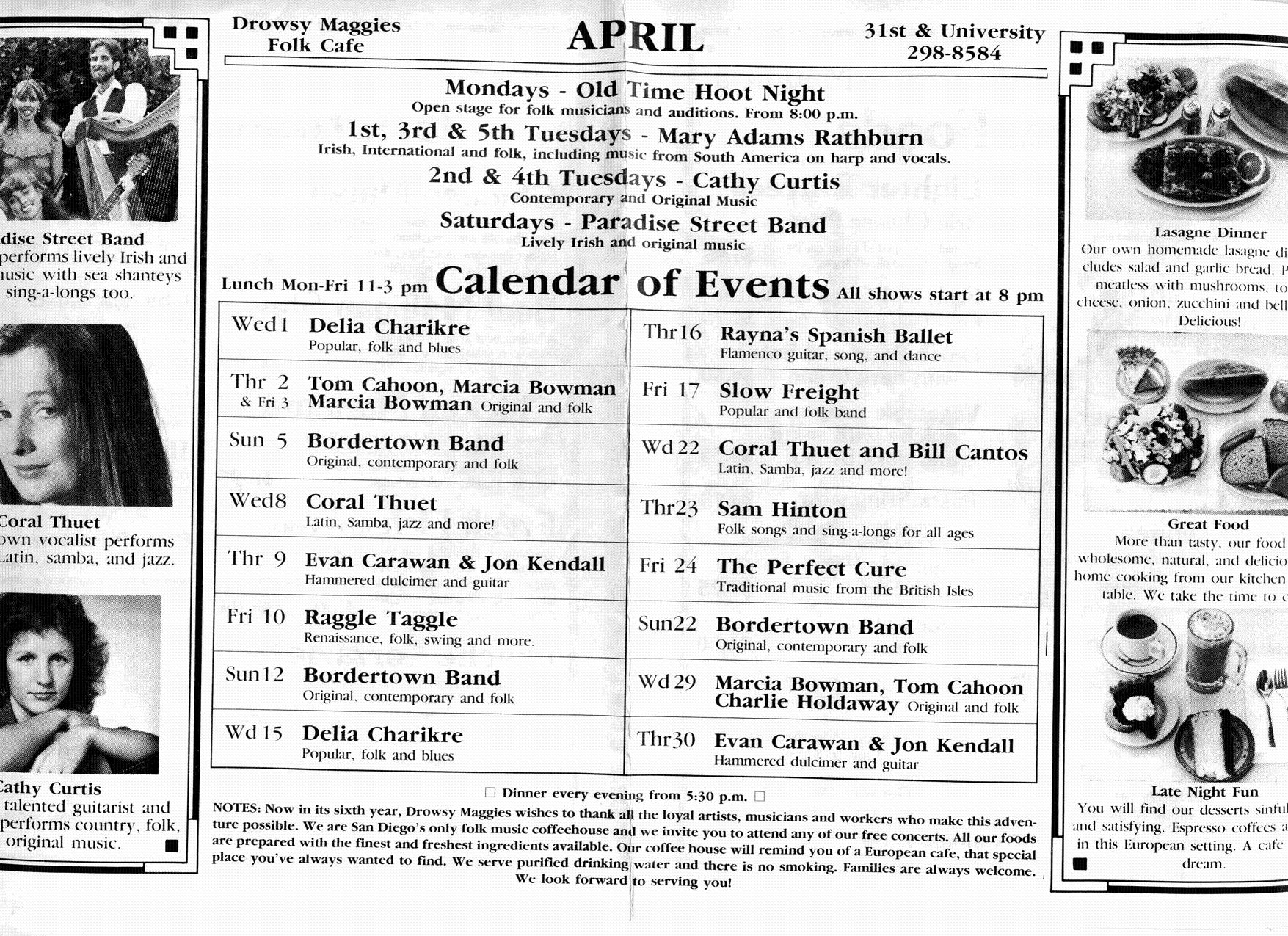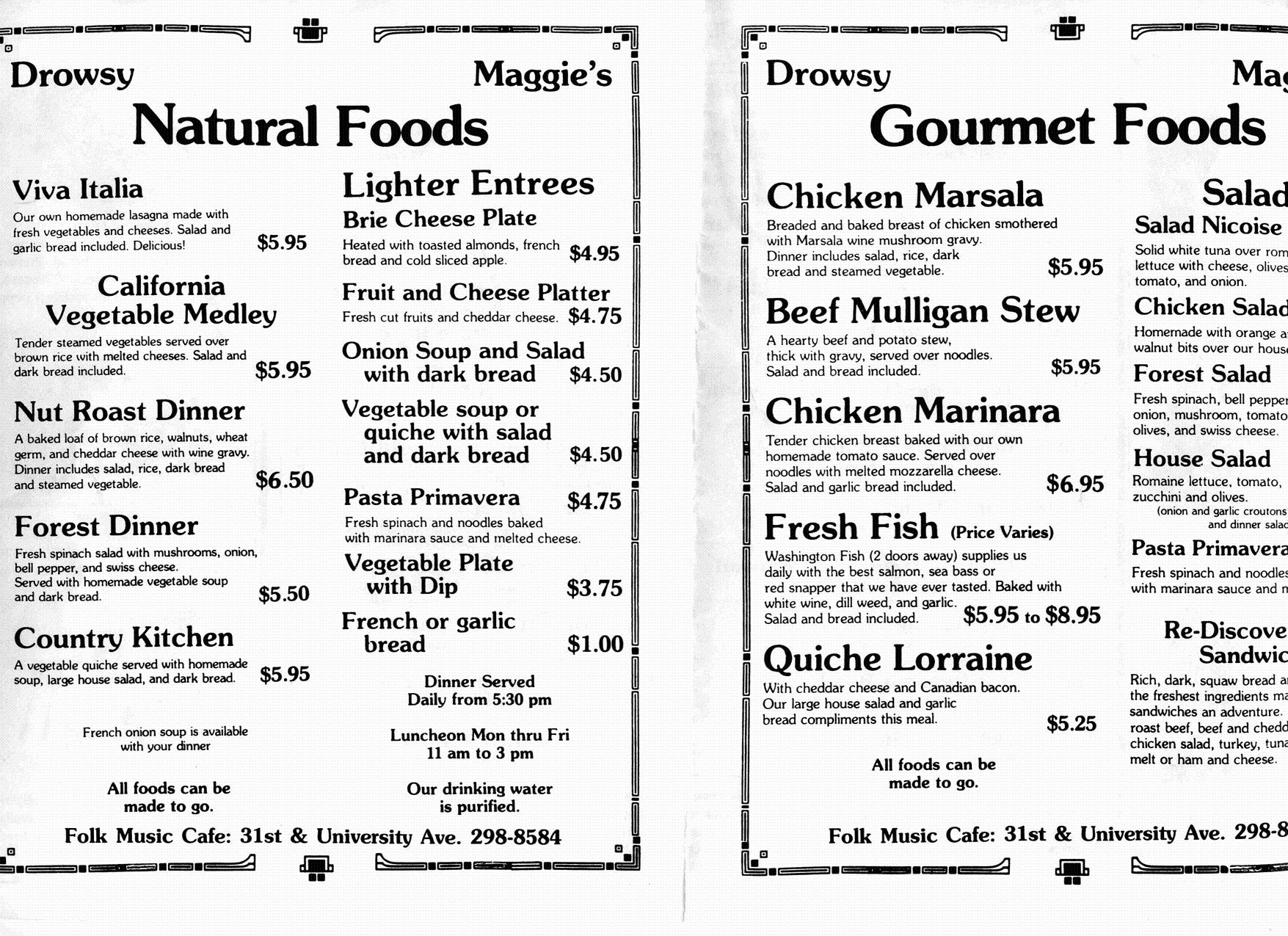 Here is a pay receipt from that period:
Drowsy Maggie's pay receipt – 1987
I had to leave that job after 1 year because I hurt my foot and was on crutches for several weeks, and so could not waitress.  At this point I had started at SDSU, and was focusing on physics class and getting some income from financial aid.
When I won my full scholarship to UCSB, I was working the graveyard shift at Denny's.  Here is a picture a customer drew of me while I was on a ten-minute break: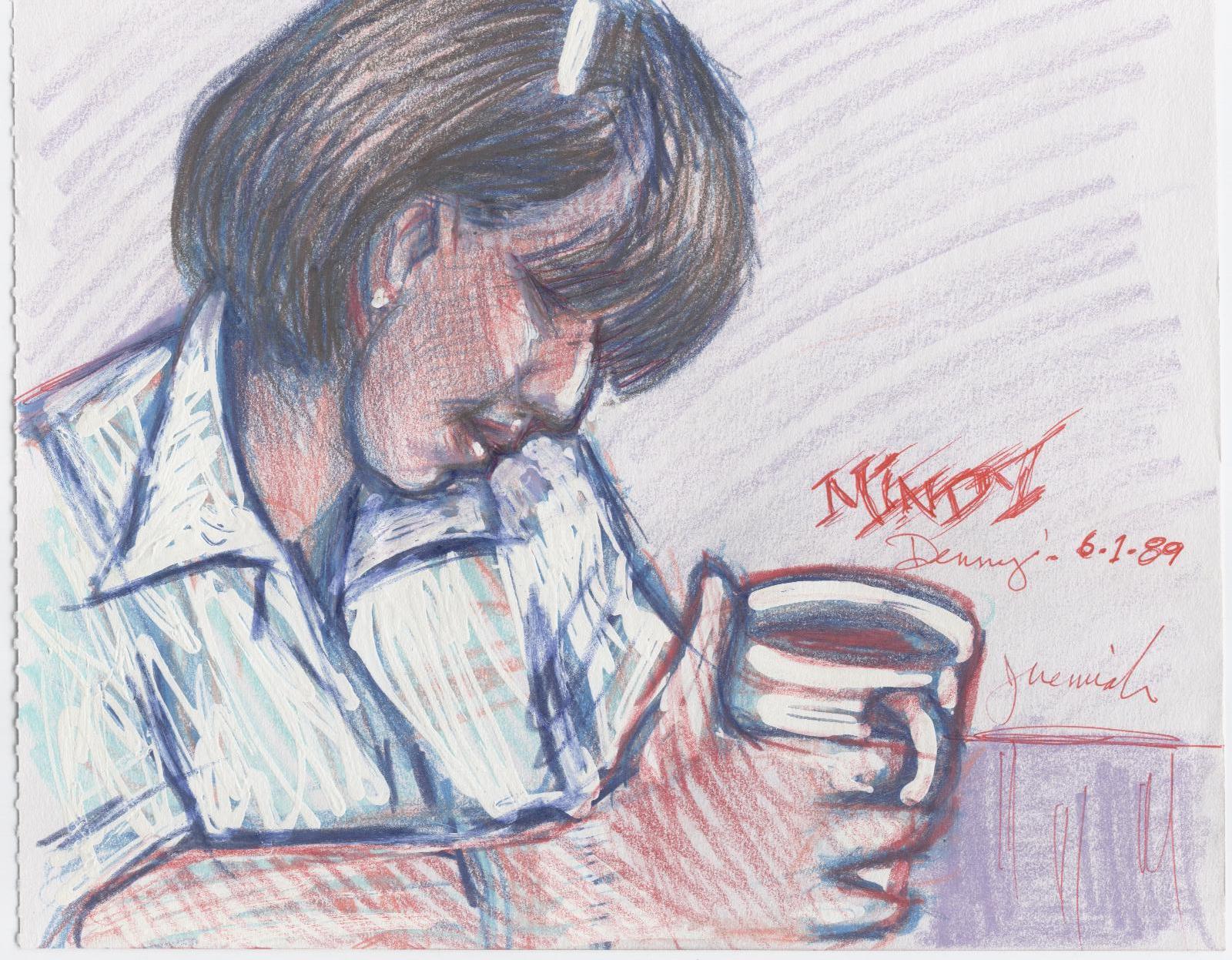 I quit my job at Denny's after I was followed home after my shift was over (around 2 or 3 am) and the person trapped me in my garage.  I managed to get him to move away and free me, but was too afraid after that to work a graveyard shift.
My final job before starting my physics career at UCSB, was as a waitress at the hip all-vegetarian restaurant in Hillcrest called "Cornucopia."  I got the job immediately after leaving Denny's.  It was another enjoyable job, where I met some more good friends.
Copyright  2012 by Melinda Jane Kellogg;  All Rights Reserved